Toyota Corolla Repair Manual: Tire & wheel
Wheel and tire system
Inspection
1. Inspect tire
check the tires for wear and proper inflation pressure.

Cold tire inflation pressure: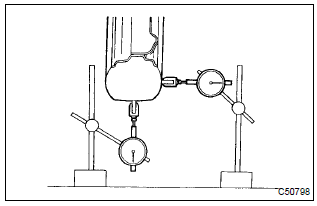 Using a dial indicator, check the tire runout.

Tire runout: 3.0 Mm (0.118 In.) Or less
2. Rotate tire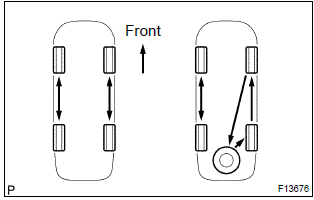 Hint
: see the illustration for where to rotate each tire when you include the spare tire in the rotation and when you do not.
3. Inspect wheel balance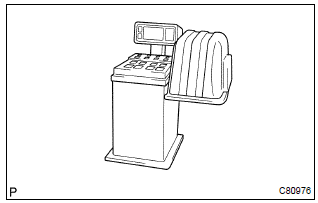 Check and adjust the off–the–car balance.
if necessary, check and adjust the on–the–car balance.

Imbalance after adjustment: 8.0 G (0.018 Lb) or less
4. Inspect bearing backlash
5. Inspect axle hub deviation
Replacement Hint: components: 1. Remove stabilizer bar rear Remove the 2 bolts, nuts and stabilizer bar. 2. Install stabilizer bar rear Install the 2 bolts, nuts and stabilizer b ...
Other materials:
Standard bolt
How to determine bolt strength Specified torque for standard bolts How to determine nut strength *: Nut with 1 or more marks on one side surface of the nut. Hint: use the nut with the same number of the nut strength classification or the greater than the bolt strength classificati ...
How to proceed with troubleshooting
1 Vehicle brought to workshop 2 Customer problem analysis 3 Check and clear dtc 4 Problem symptom confirmation 5 Symptom simulation 6 Dtc check 7 Dtc chart 8 Problem symptoms table 9 Circuit inspection 10 Identification of problem 11 Parts inspection 12 Repair 1 ...
For vehicles equipped with catalytic converter
Caution: if large amount of unburned fuel flows into the converter, it may cause overheating and a fire hazard. To prevent this, observe the following precautions. Use only unleaded gasoline. avoid prolonged idling. Avoid running the engine at idle speed for more than 20 minutes. ...
© 2011-2018 Copyright www.tcorolla.net