Toyota Corolla Owners Manual: Bluetooth® Audio
Operating a Bluetooth® enabled portable player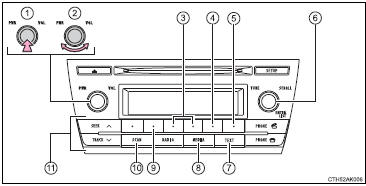 1 Power
2 Volume
3 Select an album, fast-forward or reverse 4 Repeat play
5 Random playback
6 Selecting an item
7 Displays text message
8 Playback
9 Playback/pause
10 Search playback
11 Select a track
Selecting an album
Press

(

) or

(

) to select the desired album.
Scanning an album
1 Press and hold

until you hear a beep.
The first 10 seconds of the first track in the each album will be played.
2 When the desired album is reached, press

again.
Selecting a track
Press

or

to select the desired track.
Scanning tracks
1 Press

.
The first 10 seconds of all tracks in the album will be played.
2 When the desired track is reached, press

again.
Playing and pausing a track
Press

(

) to play or pause a track.
Fast-forwarding and reversing a track
To fast-forward or reverse, press and hold

(

) or

(

).
Random playback
Pressing

(RDM) changes the random playback mode in the following order:
Album random → All track random → Off
Repeat play
Pressing

(RPT) changes the repeat play mode in the following order:
Track repeat → Album repeat* → Off
*: Available except when RDM (random playback) is selected
Switching the display
Press

.
Track title and artist name are displayed on the display.
To return to the previous display, press

or

(BACK).
■Bluetooth® audio system functions
Depending on the portable player that is connected to the system, certain functions may not be available.
Select "Transfer Histories" using and press (YES). ■Phone number Up to 1000 names can be stored. ■Call history Up to 10 numbers can be stored in each of the outgoing, incoming and ...
Other materials:
Bluetooth® phone message function
Received messages can be forwarded from the connected Bluetooth® phone, enabling checking and replying using the multimedia system. Depending on the type of Bluetooth® phone connected, received messages may not be transferred to the message inbox. If the phone does not support the message func ...
Problem symptoms table
Proceed to the reference page shown in the table below for each malfunction symptom and troubleshoot each circuit. Hint: troubleshooting of the tvip system is based on the premise that the door lock control system and wireless door lock control system is operating normally. Accordingly, be ...
Changing engine switch modes
Modes can be changed by pressing the engine switch with the brake pedal (continuously variable transmission) or clutch pedal (manual transmission) released. (The mode changes each time the switch is pressed.) ► Vehicles without a multi-information display Off* The emergency flashers ca ...
© 2011-2018 Copyright www.tcorolla.net